Three problems a marketing consultant can help you solve
Making the decision to hire a marketing consultant can be a daunting task, especially for small businesses and nonprofits who are working with tight timelines and budgets. Making sure you understand what a consultant can do for your organization, including what problems they can help you address and how they will implement solutions, is key. If you are struggling to decide if hiring a marketing consultant is the right decision for you, here is a guide to some of the problems marketing consultants like the team at Dot Org Solutions can help you work through.
1. You don't have a marketing plan.
All successful marketing campaigns exist within a larger strategy. It may seem simple enough to start a Facebook page to get your organization's name out in the public or put together a brochure detailing all of the great things you are doing for the community. However, those are marketing tactics. Tactics will not work if they don't exist as part of a strategy.
The best way to ensure your efforts are in line with a larger strategy is to go through the process of building a marketing plan. A marketing consultant can help you build a marketing plan by taking you back to square one and realigning all marketing efforts to your organization's overall goals. A marketing plan can focus on all of your organization's marketing, or it can pertain to a specific program or campaign. To make sure the marketing plan is strategic, we include your goals, audience profiles, preferred tactics, metrics and more. With a proper plan in place, your entire organization will have a better understanding of how you are getting your message out to your preferred audiences, what exactly you are telling them and how you will measure the success of your marketing tactics.
2. Your current marketing plan isn't working.
Whether you aren't achieving the metric goals you set for yourself or you feel like your marketing plan is missing something, a marketing consultant can help you refresh your marketing strategy. One of the best things a marketing consultant can offer in this situation is a fresh perspective. Taking a step back and examining your target audiences, marketing goals and preferred communication methods can help you identify issues you didn't notice in the past.
Our first step to address this problem is to perform a marketing assessment, a refined process that takes a look at all of your current marketing goals and efforts. The assessment includes interviewing key marketing staff and stakeholders, along with extensive research on your processes, materials and more. The assessment concludes with a comprehensive report including a summary of your marketing activities and observations about what's working, and what isn't. This assessment helps you refocus your marketing to ensure your tactics and messaging align with organizational goals.
3. You are stretched too thin.
If you work for a nonprofit or small business, you are likely juggling several projects and responsibilities at once. Sometimes, there are tasks you know that you and your team just cannot add to your to-do lists. A marketing consultant can help you manage some of those responsibilities.
Whether you are looking for creative services, consulting or help creating a plan for your new website, it may be easier (and more cost effective) to outsource that work to a consultant than hire another full-time employee. Some of our clients come to us for help with a single project. For others, we act as an add-on to their marketing team, picking up and supporting them with projects as needed throughout the year. And for others, there may be a portion of their job that they just want an expert to handle. For example, social media may be part of your marketing strategy, but it's just not your expertise. We can help you build your social media strategy, put together a content calendar and show you how to implement it. Or, we can take the reins and handle building, implementing and monitoring the social media portion of your strategy for you.
Marketing consultants can offer significant perspective and innovative solutions to your marketing problems. As you can see, our offerings as marketing consultants can take on different meanings to different clients. Regardless of the work we are doing for our clients, helping them achieve their overall marketing and business goals is at the heart of all of our marketing services and solutions.
Like what you read? Subscribe to our weekly blog and it will be delivered directly to your inbox!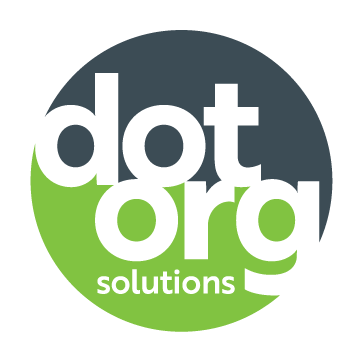 Dot Org Content Team
Dot Org Solutions works with nonprofits of all types to raise more money, communicate effectively and educate their constituents so they can build better communities. Our proven systems and years of experience help reduce the anxiety and stress felt by nonprofit teams, giving them more time to focus on other important things.