Recognizing partners and sponsors on social media
You have probably heard the saying "it takes a village" in reference to reaching a goal or accomplishing a big task. And, it's true. In many instances in our personal and professional lives, it takes a unified community of people to achieve success.
Nonprofits and small businesses understand this better than most organizations. In order to build brand awareness, execute their mission and make an impact, nonprofits and small businesses must have a lot of support from different constituents. These include peers, mentors, volunteers, donors and investors. They also need support from sponsors and partners.
To maintain a mutually beneficial relationship, nonprofits and small businesses must show sponsors and partners recognition, both privately and publicly. One platform that nonprofits and small businesses can use to do this is through social media.
Here are some of the best ways you can recognize sponsors and partners through the social media platforms.
Include social media recognition in sponsorship packages.
If you are hosting an event for your small business or nonprofit and are interested in sponsorships, you will need to present organizations you approach with sponsorship opportunities and packages. Some benefits for sponsors include a certain number of tables and chairs at the event, public acknowledgement during speeches and larger ad sizes in event brochures and programs.
When coordinating with potential sponsors, make sure to include social media recognition among sponsorship opportunities. Sponsors will want their names and contributions to be recognized by the public – and what better way to reach a larger audience range than through social media?
For sponsors that make larger contributions, you should create an entire post that thanks them for their support. You can feature multiple sponsors that made smaller donations in a separate single post. During the event, you can also make a general thank you post to all sponsors. Don't forget to tag them if they are active on social media too!
Most importantly, when you promise social media recognition to sponsors, make sure to follow through and create the posts accordingly.
Learn more about your partners and sponsors before posting.
Picture this. You are going to your organization's social media accounts and you decide to post about one of your collaborative partners. You check back an hour later and you realize that you tagged the wrong account or used a hashtag that has nothing to do with your partner.
You can avoid this situation by researching your partner's social media presence and messaging prior to posting.
When you are doing your research, ask yourselves the following questions: What is this organization's page name (remember, this could be different for different social media accounts)? What hashtags do they use? How often are they on social media? Is there any relevant content of theirs that we should be sharing on social media? What information is most important to share about our partners?
Include relevant information about your sponsorship or partnership – and give thanks!
There is a reason that an organization decided to partner with or sponsor your nonprofit or small business. Their contribution or partnership also has an impact on your organization.
For these reasons, you will want to include important details about their sponsorship or partnership – what their contribution may go toward, how your missions align, any further involvement with the organization, etc. You will also want to be sure to thank them for their generous support or for the work they have done to further the reach of your organization.
Note: For sponsors, we would not recommend including the financial details regarding an event sponsorship, such as how much that an organization spent or the perks a sponsor received. However, you can list what type of sponsor they are. For example, if you have Bronze, Silver or Gold sponsors, you can include which level the organization you are sharing information about falls into.
Build awareness about your sponsors and partners.
Any relationships that nonprofits and small businesses make with organizations or individuals should be mutually beneficial. This is also true for relationships between nonprofits and small businesses and their sponsors and partners.
Of course, more often than not, sponsors and partners will want to work with you for altruistic reasons. However, these same sponsors and partners probably also want to get their names out there to the public. Social media can help you build awareness for your partners and your own organization at the same time.
When posting about sponsors and partners, include a brief statement about who they are and what they do. Try to feature their logo somewhere in the post, whether you post an image of the actual logo, a photo of staff wearing the logo on their shirts or signage where the logo appears. Don't forget to link to their website in the post so as your followers can learn more about them.
For tips on creating attention-grabbing content on social media, check out our snackable content Espresso video!
Create graphics using your sponsors logo to post on social media.
Well-made graphics can help you tell the story of your sponsors in a visually engaging, valuable way. It not only makes your recognition posts more engaging and shareable, but it also shows an extra step of care and consideration.
When creating a graphic to spotlight your sponsors, the image of their logo needs to be high-quality – you don't want to post anything that is grainy or awkwardly sized. Graphics are ideal for posting on Twitter, Instagram, Facebook or LinkedIn, but any platform that is video-centric, places like TikTok or Reels, a graphic would not work. Remember to follow each platforms unique image size requirements when creating your graphics:
Facebook – 1200 X 630 pixels
LinkedIn – 1200 x 627 pixels
Instagram – 1080 x 1080 pixels for square or 1080 x 1350 for portrait pixels
As a nonprofit or small business, you know how important it is to acknowledge your supporters and let them know their work makes a difference. If you follow these steps to recognize partners and sponsors on social media, you are taking a step in the right direction to building and strengthening your "village" and beyond.
Like what you read? Subscribe to our weekly blog and it will be delivered directly to your inbox!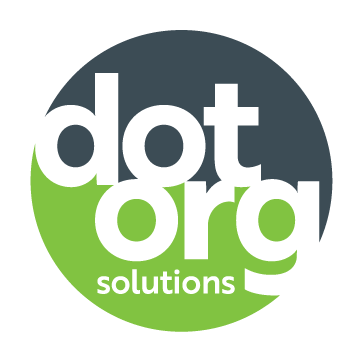 Dot Org Content Team
Dot Org Solutions works with nonprofits of all types to raise more money, communicate effectively and educate their constituents so they can build better communities. Our proven systems and years of experience help reduce the anxiety and stress felt by nonprofit teams, giving them more time to focus on other important things.