Exploring LinkedIn: A professional's guide to using the social network
LinkedIn is a great tool, but many employees of nonprofit organizations and small businesses do not fully understand its benefits. This is due to a variety of factors, including limited brand awareness, misconceptions about the platform and lack of time to discover the ins and outs of LinkedIn.
So, let's take a look at some common questions about LinkedIn, along with best practices for using this platform to engage with your organization's target audiences.
So… What is LinkedIn?
LinkedIn is a social media platform with 645 million+ members that caters specifically to professionals and businesses in all types of industries. Through this platform, users can create their own personal profiles, while companies can make business pages. All can be accessed online or through LinkedIn's app.
What are the benefits of using LinkedIn?
One common misconception about LinkedIn is that it is solely used for recruitment purposes. Yes, LinkedIn is a tool used by recruiters and businesses looking to hire and seeking more information on prospective employees. However, members also use LinkedIn for other networking and professional purposes.

Members of nonprofits and small businesses can especially benefit from using LinkedIn by:

• Creating connections with colleagues, prospective clients, partners and other organizations for business and professional growth
• Engaging with businesses and industry thought leaders
• Learning about networking events, conferences and professional development opportunities
• Communicating the goals, mission and brand of their organizations and businesses


LinkedIn may not be as entertainment-focused as social media platforms like Instagram and Twitter; however, users can become more well-rounded professionals and companies can tell their stories and market themselves through this network.
Is joining LinkedIn worth my time?
Yes, we believe joining LinkedIn is worth your time, both as an individual and an organization.

According to this blog post by Hootsuite, LinkedIn is more relevant than ever. Here are some statistics pulled from the article:

• Two professionals join LinkedIn every second
• 154 million American employees are on LinkedIn; the remaining users live in 200 countries around the world
• 91% of executives rate LinkedIn as their first choice for professionally relevant content
• 3 million American jobs are posted on LinkedIn every month
• 30 million companies have LinkedIn profiles


Additionally, LinkedIn is consistently ranked by thought leaders as one of the top 20 most popular social media sites in the world.
Let's get to the best practices!
Clearly LinkedIn is a great resource for you to consider using. However, you must be sure you're using it appropriately for it to be effective. Here are some tips and tricks for employees of nonprofits and small businesses when using this platform.
1. Coordinate creating a business page for your nonprofit or small business.
LinkedIn gives your constituents, donors, customers and clients another opportunity to learn more about your organization. Work with your leadership team, on-staff marketing professional or outsourced marketing team (such as Dot Org Solutions) to develop a business page that informs the public about your nonprofit or small business's work and mission.
2. Make sure your business page's "About" section sounds like your organization.
This is an important tip for leadership team members and marketing professionals to remember. One of the first things users look at when searching a business page is the "About" section. Tailor the messaging of this section to clearly communicate what your organization does, who it serves and why page visitors should want to learn more.
3. Update your personal profile to define your role at your organization.
When other professionals want to make connections with you on LinkedIn, they want to learn more about what you specialize in and do for your organization. And these professionals can be prospective customers, members of foundations, future donors and potential partners. Include bullet points or short phrases about how you benefit your organization and the work you do.
4. Share materials on your LinkedIn profile.
You can upload relevant documents onto your LinkedIn profile to help you establish yourself as a thought leader. Feel free to upload relevant articles, theses, papers or blog posts that you have written to communicate your expertise.
5. Discover LinkedIn features.
LinkedIn is full of many features that even social media experts do not know about. For example, if you gave a compelling presentation, you can upload your slides through a LinkedIn feature called SlideShare. Explore features like SlideShare through your LinkedIn page and see what works best for your organization.
LinkedIn is an effective tool that is used by professionals and businesses worldwide. By learning the basics of this social network and utilizing best practices, you can connect with your constituents, donors and other professionals easily and effectively.
Like what you read? Subscribe to our weekly blog and it will be delivered directly to your inbox!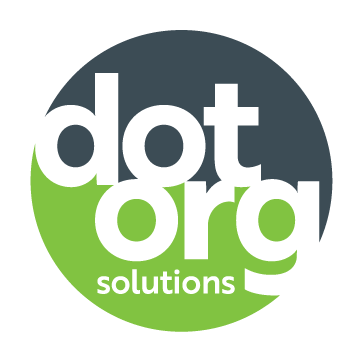 Dot Org Content Team
Dot Org Solutions works with nonprofits of all types to raise more money, communicate effectively and educate their constituents so they can build better communities. Our proven systems and years of experience help reduce the anxiety and stress felt by nonprofit teams, giving them more time to focus on other important things.