Four marketing trends for nonprofits to consider this year
Earlier this month, HubSpot released an article about marketing trends to watch in 2021. These kinds of articles are popular every new year, but as organizations continue to navigate the pandemic and adapt to new tools and ways of communicating with constituents, paying attention to trends in marketing feels especially important this year.
HubSpot's article includes some great information, but here are some highlights I think are most relevant for nonprofit marketing teams to consider.
1. Focus on your supporters and clients to help move your nonprofit forward.
This has always been important, but now it is essential if you want to retain and engage more clients, donors or volunteers. When you build your marketing plan and messaging for this year, make sure that the people you are serving and the people who support your organization are at the center of every decision you make. What problems are your clients facing? Call them out and explain how you can help in a way that will resonate with them. What is keeping your donors from giving? Address this question head-on and explain the impact their gift will make. Not sure how to answer those questions? Ask your clients and donors! Don't just assume you know what they want or need if you haven't had those conversations. Asking about their pain points will make it easier for you to address them in a way that is sincere and relatable in your marketing. As people continue to navigate the uncertainty of the months ahead, you need to make sure you are clear about what your organization does and why your customers and supporters should stick by your side.
2. Look for new ways to engage with people and build relationships.
At the onset of the pandemic last year, organizations scrambled to find new ways to communicate with their staff members, donors and clients. Zoom meetings and virtual events quickly replaced in-person gatherings. While these new ways of connecting were exciting at first, many people are facing "Zoom fatigue" after months of virtual event overload. Virtual connections aren't going away, but organizations need to be creative to keep staff members, supporters and clients engaged. When you start planning your annual event, don't attempt to simply replicate your in-person event in the virtual space. Look for ways to get attendees involved through your online platform or on social media. Instead of holding a webinar that involves a panel talking at the audience, find ways to spark discussions between panel members and the audience that will make for a more interactive experience. If your event is later in the year and you think you may be able to hold it in person, consider incorporating virtual elements that will allow more people to engage with you. While we all may be excited for life to get "back to normal", the way we connect and interact has been forever changed and you can extend your organization's reach by embracing virtual interactions as part of your marketing strategy in the future.
3. Continue to invest in marketing.
Many nonprofits are facing budget cuts and some marketing teams may be smaller entering this year. Cutting your marketing budget may seem like a simple way to save some money, but it will hurt your organization in the long run. You need to stay in front of your current and potential clients and supporters. If you stop investing in marketing now, you'll be even farther behind your competitors by the time your finances start to stabilize. Instead of cutting your marketing budget, look for ways to make smarter marketing decisions. As you build your marketing plan for 2021, think about your customers and the best way to reach them. For example, do you spend a significant amount of money designing, printing and mailing reports or appeals? Maybe it's time to consider ways you can repurpose those pieces digitally, especially since many people are still working from home and may not receive the annual report or newsletter you usually send to their office. Don't be afraid to change things up in your marketing strategy but continue to invest in marketing to ensure your organization stays relevant and top of mind to your audiences.
4. Capitalize on the changes you made in the last year.
While it may have felt like you were scrambling to adapt as the world quickly changed last spring, chances are you have made some significant changes in the way your nonprofit communicates with clients and donors. When life starts to feel more normal, it may seem easier to revert to the way you did things before the pandemic. Don't fall back into your old routine. The way we engage with each other has been forever changed and your marketing needs to reflect that. Your supporters and clients will likely expect the ways you adapted your communication to continue. This may mean offering more Zoom calls to check in with donors instead of meeting them in person or livestreaming events on your Facebook so that people who can't attend in person can be part of the action. The ways that you altered your marketing to connect with people in 2020 may be important pieces of your marketing strategy moving forward.
The way we communicate with one another and connect with our audiences drastically changed last year. By incorporating these trends and things you learned from pivoting your marketing in 2020, you'll be ready to successfully ramp up your nonprofit's marketing in 2021.
Want to learn more about how our Dot Org Solutions consultants can help with your marketing plan?
Contact us to learn more.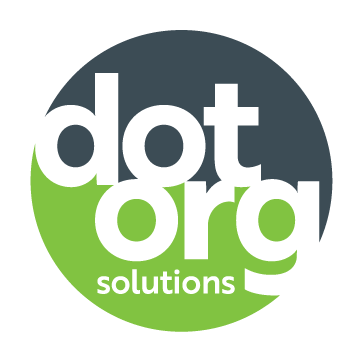 Dot Org Content Team
Dot Org Solutions works with nonprofits of all types to raise more money, communicate effectively and educate their constituents so they can build better communities. Our proven systems and years of experience help reduce the anxiety and stress felt by nonprofit teams, giving them more time to focus on other important things.